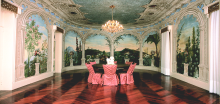 The ArmilarWorld.
An Hotel reservation center for all those special travelers for whom beauty and good taste are the most important things in life. We, in Europe, are all about that. It is our message. Our Heritage, your inheritance. We love to share our best with you. Should you be wiling to receive our gifts to you - Europe's history, tastes, civilization and feelings will grow on your heart. Just as they have in ours. Visit our Castles. Stay there. Travel the Horizon of your dreams. Kings have done it®. You're up now.
Traveler of the Horizon.
Traveler of the horizon. He follows the Ecliptic of the Sun to the ever changing line of sight. The ArmilarWorld Traveler flies the Clipper over The South China Sea all the way to Macao -- at the mouth of the River of Pearls. And taste a selection of Port Vintages at the Port Wine Cellars in Gaia, Portugal. Or she will explore virgin mornings in Braga or Sintra, Portugal. Gaudy in Barcelona. Bouleversant. Small luxury hotels. Leading hotels of the world. Castelo Bom Jesus in Portugal. Luxurious Villa Ilios, Corfu, Greece. Or a bullfight at night, Monumental Plaza de Toros de Calatayud, Reino de España. A quiet glass of Osborne in a deserted bodega, right by the Plaza de Toros - the area is now empty, la corrida has ended. Or the capital of clubbing in the Island of Summer - Ibiza! The White Island of Love, modern Atlantis. Monaco. Venice. Princes and Lovers. The best vacation of a lifetime, with all classical, forever memories. Luxury is a Lesson from God. West-by-Southwest, traveler. And all other points, really... to our leading hotels of the world and the best small luxury hotels of the world. Quite naturally, for you.